Introduction
Email marketing continues to be a crucial tool for organizations to interact with their audience, encourage engagement, and cultivate client connections in the always changing world of digital marketing. Choosing the best email marketing platform becomes increasingly important as businesses try to stand out in the cluttered internet scene. Two industry juggernauts have maintained the forefront among the plethora of options: Omnisend and Mailchimp.
In the world of email marketing, Omnisend and Mailchimp have both carved themselves sizable niches by providing a wealth of functionality, simple user interfaces, and outstanding automation capabilities. Understanding the differences between each platform, however, becomes crucial when choosing the one that is best for your company.
In this thorough post, we engage in a head-to-head comparison between Omnisend and Mailchimp, examining their respective advantages and disadvantages. Join us as we explore the nuances of these platforms, revealing their salient traits, business strategies, and user interfaces.
By the time it's all over, you'll have the knowledge you need to make a wise choice, equipping yourself with the best email marketing solution for your company's requirements.
So buckle up as we go into the worlds of Omnisend and Mailchimp and reveal the keys to successful email marketing, whether you're an ambitious business owner exploring the world of e-commerce or a seasoned marketer looking to update your email marketing approach.


List Management Features
Effective list management is a critical component of email marketing that may make or break your campaigns. Both platforms in the competition between Omnisend and Mailchimp provide a variety of capabilities to aid in the effective management of your email lists.
Segmentation is where Omnisend excels. Your ability to construct highly targeted lists based on consumer behavior, purchase history, and engagement levels is enabled by its powerful segmentation features. As a result, you may deliver tailored, pertinent material to certain segments and increase the effectiveness of your email marketing.
Furthermore, Omnisend's dynamic audience feature guarantees that your lists are always current by updating them automatically based on in-flight customer actions. Additionally, you can customize the platform's signup forms, which include pop-ups, landing pages, and embedded forms, to collect crucial customer data and expand your email list.


| List Management Features | Omnisend | Mailchimp |
| --- | --- | --- |
| List Segmentation | Yes | Yes |
| Dynamic Audiences | Yes | No |
| Signup Forms | Yes | Yes |
| Import/Export Subscribers | Yes | Yes |
| Unsubscribe Management | Yes | Yes |
| Subscriber Preferences | Yes | Yes |
| List Hygiene | Yes | No |
Mailchimp, on the other hand, has a unique set of list management tools. You may use Mailchimp to divide your subscriber base into several groups and segment your audience, allowing you to customize your messaging for each group.
Utilizing the merge tags provided by the platform, you can dynamically insert subscriber-specific data into your emails, such as names or purchase information, to personalize your emails. This degree of personalisation enables you to provide more interesting and pertinent material, strengthening your relationships with your audience.
Additionally, Mailchimp offers a list health dashboard with information on the growth of subscribers, engagement levels, and bounce rates for your email lists. With the help of this function, you can keep an eye on the caliber of your lists and take the necessary steps to keep your deliverability rate high.


Ease of Use
The simplicity of a platform can have a significant impact on your productivity and efficiency when it comes to email marketing. Both platforms competing against one another, Omnisend and Mailchimp, aim to deliver user-friendly interfaces and experiences. Let's look at how user-friendly each platform is.
Omnisend takes pride in its easy-to-use UI that makes email marketing simple. Even novice users may easily navigate the platform's slick, modern dashboard. Without any coding experience, you can easily build aesthetically attractive email templates with its drag-and-drop editor.
The user-friendly automation processes provided by Omnisend make it simple to set up even the most complicated automation sequences. Omnisend provides a streamlined and simple user interface for managing subscriber lists and creating tailored emails.
| Criteria | Omnisend | Mailchimp |
| --- | --- | --- |
| User Interface | Easy to navigate with a modern and intuitive design. | User-friendly interface with a clean and organized layout. |
| Email Creation | Drag-and-drop editor with pre-built templates for easy customization. | Drag-and-drop editor with a wide variety of customizable templates. |
| Automation | Offers advanced automation features with easy setup and workflows. | Provides a range of automation options with straightforward setup. |
| Segmentation | Allows for efficient segmentation of subscriber lists based on various criteria. | Offers robust segmentation capabilities to target specific groups. |
| Integration | Integrates well with popular e-commerce platforms and CRMs. | Provides extensive integration options with various third-party tools. |
However, Mailchimp has a reputation for having a user-friendly interface, which has helped it become a favorite among marketers of all skill levels. The platform offers a simple, well-organized interface that makes it simple to access all the required tools and functions.
You can quickly produce emails with a professional appearance using Mailchimp's drag-and-drop email builder, and the campaign building procedure is highly intuitive. Making it even simpler to send visually appealing emails is Mailchimp's extensive library of pre-designed themes. Users can easily browse the platform thanks to Mailchimp's user-friendly layout and helpful resources.
User experience is prioritized by Omnisend and Mailchimp, which both offer user-friendly interfaces and streamlined procedures. While Mailchimp has a reputation for being user-friendly and having a large template library, Omnisend excels with its slick dashboard and intuitive automation workflows. The decision between the two systems will ultimately come down to your own tastes and how simple you want your email marketing campaigns to be.
Templates and Design
 Having aesthetically appealing and expertly produced emails can have a big impact on the performance of your email marketing strategy. Both Omnisend and Mailchimp provide a range of choices to assist you in creating engaging email content because they recognize the value of themes and design. Let's examine each platform's template and design characteristics in more detail.
Numerous customizable email templates are available from Omnisend for a variety of markets and uses. Their templates are created with mobile devices in mind, so your emails will look excellent on all of them. Omnisend's template collection has you covered whether you're advertising a product, disseminating a newsletter, or delivering an abandoned cart reminder.
You can quickly alter these templates to reflect your brand identity by adding your own images, text, and colors using the platform's drag-and-drop editor. You can design eye-catching emails with Omnisend that attract readers and make a lasting impression.


On the other hand, Mailchimp is recognized for its vast template library, which offers hundreds of well created templates for a variety of niches and events. The templates offered by Mailchimp cover a wide range of email marketing requirements, from newsletters and promotions to event invitations and surveys.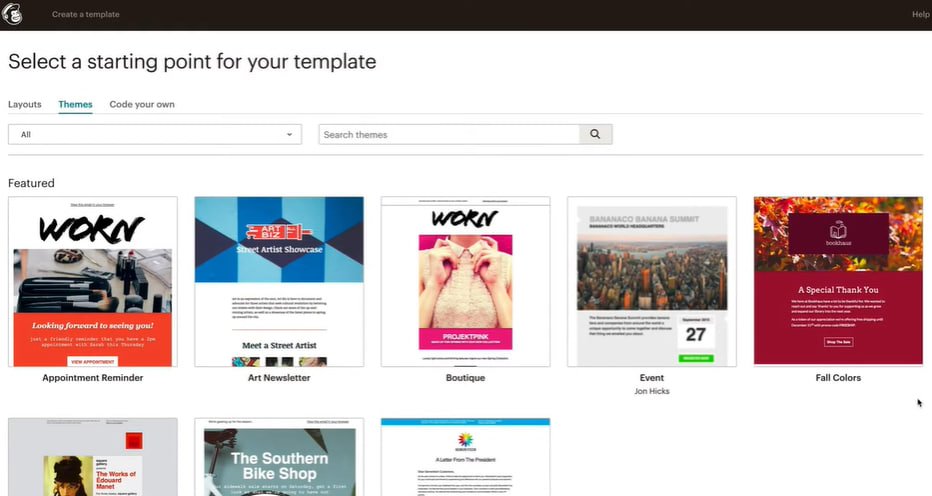 You can easily modify these templates using the platform's user-friendly drag-and-drop editor, which also lets you add your company logo, change the colors, and organize the material however you choose. You have the freedom to design visually pleasing emails with Mailchimp that complement the aesthetics of your company.


Both Omnisend and Mailchimp place a strong emphasis on design and offer easy-to-use tools for customizing templates. While Omnisend emphasizes a mobile-first strategy and provides a variety of editable templates, Mailchimp stands out with its large template library, which offers a wide range of industry and occasion coverage.
The decision between the two platforms will ultimately come down to your particular design needs, the degree of flexibility you desire, and the template alternatives that best suit the goals of your brand.


Automation
 Modern email marketing relies heavily on automation, which enables companies to create individualized experiences at scale, nurture leads, and streamline communication processes. Both Omnisend and Mailchimp have extensive automation tools, so let's take a closer look at what each platform can do.
With the help of Omnisend's extensive automation workflow builder, marketers can design incredibly focused and unique client journeys. You can effortlessly drag and drop automation blocks to create complex workflows depending on customer behavior, preferences, and engagement levels with its visual editor.
With Omnisend, you can connect with your audience at key touchpoints using a range of automated triggers, including abandoned cart, welcome series, and post-purchase follow-ups. The automation capabilities of Omnisend go beyond email, enabling you to include other channels like SMS and push alerts in your workflows. Your reach is increased and consistent messaging is ensured with this multi-channel strategy.
| Criteria | Omnisend | Mailchimp |
| --- | --- | --- |
| Workflow Builder | Provides an intuitive drag-and-drop visual builder for easy workflow creation. | Offers a user-friendly workflow builder with pre-built templates and triggers. |
| Triggered Emails | Provides a wide range of triggers and conditions for automation workflows. | Offers a variety of trigger options with conditional logic for precise targeting. |
| Abandoned Cart Recovery | Offers automated cart recovery emails for e-commerce businesses. | Provides abandoned cart recovery emails with product recommendations and discounts. |
| Product Recommendations | Provides personalized product recommendations based on customer behavior. | Offers product recommendations based on purchase history and other data. |
| SMS Automation | Allows for the creation of automated SMS campaigns in addition to email automation. | Offers SMS automation features for personalized text message campaigns. |
| A/B Testing | Allows for A/B testing of automation workflows to optimize performance. | Provides A/B testing options for automation workflows to improve results. |
| Social Media Integration | Integrates with social media platforms to create cross-channel automation workflows. | Offers social media integration options to create comprehensive automation campaigns. |
| Integrations | Integrates with popular e-commerce platforms and CRMs to enhance automation workflows. | Provides extensive integration options with various third-party tools for enhanced automation. |
Additionally, Mailchimp provides a strong automation platform that enables you to design unique customer journeys. You may send emails depending on particular occasions or actions, such purchases, website visits, or form submissions, using Mailchimp's automation processes. The platform offers a user-friendly interface where you can create your automation sequences from scratch or utilizing pre-built templates.
You may personalize and segment your messages using Mailchimp's automation features, allowing you to target particular audience groups with your communications. Additionally, Mailchimp provides e-commerce automation features like product recommendations and order notifications that are especially helpful for online businesses.
Both Omnisend and Mailchimp include robust automation features that let you send your subscribers timely, pertinent communications. While Mailchimp's automation platform is renowned for its user-friendly interface and e-commerce-specific features, Omnisend's automation platform stands out for its multi-channel automation and intuitive workflow builder. Depending on your particular automation needs, the level of complexity you require, and the integration of many channels into your email marketing plan, you will need to decide between the two platforms.
Reporting and Analytics
 The success of your email marketing efforts must be measured in order to improve your methods and get better results. You can track the effectiveness of your email campaigns with the reporting and analytics tools provided by Omnisend and Mailchimp, respectively. Let's examine each platform's reporting and analytics features in more detail.
With the help of Omnisend's extensive suite of reporting tools, you may learn a lot about the effectiveness of your email marketing. Open rates, click-through rates, bounce rates, and conversion rates are just a few of the specific analytics that the platform provides.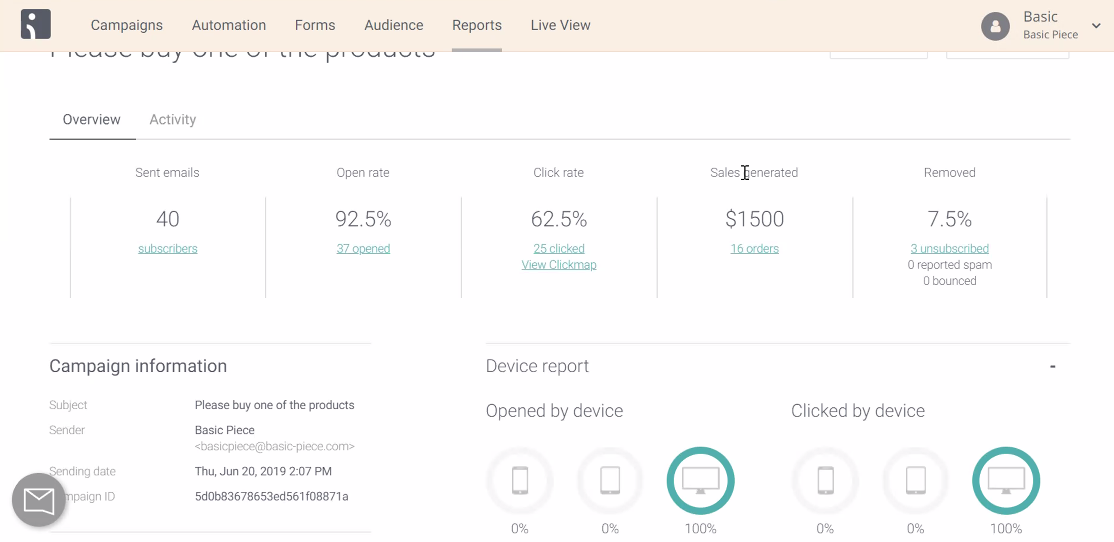 The reporting dashboard for Omnisend makes it simple to examine the effectiveness of your campaigns by presenting these metrics in a straightforward and aesthetically pleasing way. Furthermore, Omnisend provides sophisticated reporting options like revenue attribution, which enables you to monitor the financial results of your email marketing initiatives. You may learn more about how your campaigns are influencing engagement and conversions with the help of Omnisend.
Additionally, Mailchimp has powerful reporting and analytics features. The platform offers comprehensive metrics for measuring conversions and revenue, including open rates, click-through rates, unsubscribe rates, and e-commerce statistics. The reporting dashboard for Mailchimp includes graphs and visuals that make it simple to quickly assess the effectiveness of your campaigns.

Mailchimp offers A/B testing features that let you experiment with various email variations and evaluate their performance. Using this feature, you can improve your email marketing strategy by optimizing your campaigns based on data-driven insights.
You can track the success of your email campaigns using the robust reporting and analytics services provided by Omnisend and Mailchimp, respectively. While Mailchimp offers A/B testing capabilities to improve your campaigns, Omnisend stands out with its revenue attribution and sophisticated reporting options. When choosing which platform offers the reporting and analytics capabilities that meet your needs, take into account the specific metrics and features that are significant to your business.


Customer Support
It can be really helpful to have access to dependable customer care while using email marketing solutions. Both Omnisend and Mailchimp recognize how crucial it is to help its users, but let's take a closer look at what each platform has to offer in terms of customer care.


Omnisend takes great pleasure in providing its users with top-notch customer service. The platform offers email, live chat, and phone customer care around-the-clock to make sure that help is always available. Omnisend's committed support staff is here to help you with any queries you may have regarding campaign setup, debugging technical problems, or using particular services.
In addition, Omnisend provides a comprehensive knowledge library with tutorials, guidelines, and frequently asked questions that can assist you in finding solutions to common problems and learning more about the features of the platform.
| Criteria | Omnisend | Mailchimp |
| --- | --- | --- |
| Live Chat | Offers live chat support for real-time assistance. | Provides live chat support for immediate help. |
| Email Support | Provides email support with prompt responses. | Offers email support with timely replies. |
| Phone Support | Offers phone support for direct communication. | Provides phone support for urgent inquiries. |
| Knowledge Base | Provides a comprehensive knowledge base with tutorials and articles. | Offers an extensive knowledge base with resources and guides. |
| Community Forum | Offers a community forum for users to ask questions and share insights. | Provides a community forum for discussions and support. |
| Video Tutorials | Offers video tutorials for visual step-by-step guidance. | Provides video tutorials for learning and troubleshooting. |
| Help Center | Provides a help center with FAQs and guides for self-help. | Offers a help center with extensive resources for self-assistance. |
| Social Media Support | Offers support through social media channels for quick responses. | Provides support through social media platforms for additional assistance. |
Customer service is another top priority for Mailchimp, and it strives to offer prompt assistance to its users. You can contact the platform's email and chat support for assistance with any problems or questions you might have. The support staff at Mailchimp is renowned for being quick to respond and knowledgeable, helping users overcome obstacles and providing answers.
Additionally, Mailchimp offers a thorough knowledge base that includes video tutorials, guides, and a community forum where users can exchange insights and ask other marketers for advice. Users of Mailchimp may access a huge library of knowledge to improve their email marketing experience thanks to this abundance of resources.
Users can get excellent customer service from Omnisend and Mailchimp for their email marketing requirements. While Mailchimp excels in responsiveness and community-based support, Omnisend offers 24/7 support and a comprehensive knowledge base. Consider your choices for support availability and the kinds of resources that would be most beneficial for your particular requirements when choosing between the two platforms.


Pricing
Pricing is an important consideration when selecting an email marketing platform because it has an immediate influence on your budget and the value of the service. Let's examine Omnisend and Mailchimp's price plans in more detail.
Based on the size of your email list and the functionality you need, Omnisend has a customizable price structure. You can use their free, bare-bones plan to test out the platform's features without having to pay anything. Omnisend has cheap pricing tiers that start at a competitive monthly price for companies with modest email lists and basic needs.
You can upgrade to higher-tier services as your email list expands to gain access to more sophisticated capabilities like automation workflows, SMS marketing, and bespoke branding. Because of its flexible price options, Omnisend can accommodate enterprises of all sizes and financial constraints.
Additionally, Mailchimp provides a tiered pricing structure that adapts to the size of your email list and the features you need. Mailchimp offers a free plan for customers with up to a specific amount of subscribers, much like Omnisend does. Their paid plans offer extra features like automation, A/B testing, and advanced reporting and start at a fair monthly price.
The numerous pricing tiers offered by Mailchimp allow you to upgrade as your email list develops and your marketing demands change. These levels were created to accommodate businesses of all sizes and needs.
Your particular business requirements and the features you value the most will determine how to compare the prices of Omnisend and Mailchimp. Mailchimp offers reasonable pricing tiers that accommodate businesses of various sizes, whereas Omnisend offers a flexible pricing strategy that lets you pay only for the capabilities you need.
Conclusion
In conclusion, your individual demands and priorities will determine whether you choose Mailchimp or Omnisend. Omnisend might be a better choice for your company if you value segmentation power, multi-channel automation, and dynamic audiences. On the other hand, Mailchimp can be your best choice if you value a huge template library, a user-friendly interface, and e-commerce-specific functionality.
To make an informed choice that is in line with your email marketing objectives, it is critical to assess all facets of the platforms, including simplicity of use, template and design possibilities, automation features, reporting and analytics, customer service, and cost. Consider your requirements and preferences carefully before making your choice because what works well for one firm may not be the best option for another.


FAQ